Hello app enthusiasts~!
I'm writing my first blog post for TechInSPED about some of my very favorite apps for speech therapy, excluding those specifically designed with therapy in mind. Before I jump right in, I'd like to tell a little bit about myself. I sign my paperwork Alison Belden, M.S., CCC-SLP and I just finished my 4th year as a public school speech-language pathologist. I got my first iPad during the Spring semester of my CFY and my life, ok, therapy was changed forever.  Even though I was wildly against Apple products, I bought an iPad for therapy and never looked back!  In case you're wondering, I'm fully converted to Apple now, even down to my computer.  So armed with an iPad, I religiously watched for apps to go free and downloaded them all.  Fun fact: a few years ago apps went free for only 1 hour sometimes so you had to be real quick.
One of the first apps I ever bought was Articulation Station Pro on sale for $50 and I remember how mindblown I was that every single flashcard I needed for articulation therapy was at my fingertips. That was in February 2012 — Fast forward to now and I have acquired many, many apps. There are some that I use seasonally or because of certain students' interests but other apps are used over and over. Typically, I like to use the iPad as a reinforcer in between stimulus items, although sometimes the app *is* the stimulus and reinforcement wrapped into one.  Of course there is the obligatory statement that the iPad and its wonderful apps are not the solution to therapy – they are merely another handy tool to have around.
In no particular order, these are some of my very favorite "hidden therapy gem" apps and how I use them.
My PlayHome
By PlayHome Software Ltd

This app is basically a fully functioning, electronic dollhouse.  It is so much fun to watch students play with it for the first time and discover different features.  There are several additional apps in the series that connect to each other now.  For example, if you have My Playhome Store and My Playhome downloaded at the same time, you can leave the house and go to the stores.  The apps just automatically switch back/forth like magic 🙂  As you might imagine, this is an open-ended treasure trove of possibility!  They have a free, lite version with fewer rooms to explore.  Target: following directions, asking and answering questions, functional life skills, vocabulary, describing, syntax, requests/comments/protests, articulation, social skills, object-function, verbs, plurals, etc
– http://bit.ly/YcB4oY
---
Lil' Kitten Shopping Cart Premium – A Fingerprint Network App
By Fingerprint

This has been a fan favorite since 2012.  You are a kitten who was sent to the store with a specific shopping list.  Most items for sale have three different prices so you can talk about some math terms – cheaper, less expensive, most, least, less than, more than – in a functional way.  Lots of great conversation comes from deciding which aisle to find items in (categories).  At the end, you check out with the cashier and you can get a small toy with the money you saved.  I'm not thrilled with the update that added a shopping timer but overall the app is great for addressing the things I mentioned.  The app was last updated in Sept 2013 so it doesn't run as quickly/smoothly on the new iOS but that gives us a chance to squeeze in some more therapy questions while it's loading! 😉  There is also a lite version (listed below) with 5 levels to try out.
– http://bit.ly/1KN5mHP
---
Story Dice
By Thinkamingo

This is just like the story dice cubes only on the iPad – no clattering or flying dice!  I mostly use this with students at the sentence and conversational levels of articulation.  I've also used it for story-telling, sequence words (first, next, last), and descriptive sentences.
– http://bit.ly/16DbjiR
---
Little Things®
By KLICKTOCK

This is a "hidden pictures" game that I use mostly as a reinforcement.  The object is to find pictures quickly enough to earn puzzle pieces and unlock additional pictures.  I like it because it's very engaging for all ages (sometimes I even take a minute or two to play when I need a break)!  There is a list of pictures to find and I use directional concepts to give clues where the item is ("under the star") and have students take turns finding pictures.  Lightning rounds are a bit different.  Instead of having the entire list from the beginning you have to find them one at a time (no skipping around).   Although it is a timed game, I find that I still have time to discuss what an item looks like negatively impacting the results of the game.  I've also had some interesting discussions about what things are used for, where you find certain items, etc.
– http://bit.ly/12uzYT8
---
Bugs and Bubbles
By Little Bit Studio, LLC.

This app and the other ones in the "Bugs and ____" series are fabulous for the PreK + K population.  They each have several different activities/levels that target numbers, counting, sorting, stacking, colors, etc.  They are a really fun way to address fine motor skills too.  My favorite activity in this particular app is Bowling because it is fun for all ages! What I do is have the group work together to get the highest score they can.  During the students' turn, they get to roll one bug and knock out as many bubbles as they can.  Then it's the next student's turn.  Quick and easy reinforcement!
– http://bit.ly/VCkhG8
---
Phonics Studio
By Innovative Investments Limited

In a pinch, this app works for articulation therapy.  I already mentioned that I have and love Articulation Station Pro but if you haven't bought a good artic app yet, this is a free alternative.  It is organized by spelling so consider that when picking target sounds.  You can also customize this app by adding your own pictures.
– http://bit.ly/1g5GwUe
---
Scribblenauts Remix
By Warner Bros.

Another favorite since I first got the iPad.  I love this app because it is engaging for the kids and the problem-solving is great!  Basically each level is missing items and contains some clues to help you think of what might be needed to complete the objective.  There is also a "free-play" screen with no objectives.  Language possibilities are endless… you could describe an item and once they guess it, they get to add it to the screen.  You can also add an adjective to the noun ("evil dog").  Target: conversational artic, following and giving directions, problem-solving, reasoning, grammatical sentences, syntax, semantics, categories, object associations, object-functions, descriptions, pragmatics
– http://bit.ly/1aaF3nk
---
Little Things® Forever
By KLICKTOCK

See what others say –> (2.99–>2.99) APP STORE – Editor's Choice & App of the Week! METACRITIC – 90%! QUALITY INDEX – 89%! "This is a game for anyone drawn to, excited by, or nostalgic for the kid-like experience of hunting through simple imaginary worlds." – Gamezebo 5/5. "Little Things Forever revisits a classic formula, pairing it with amazing visual design and simple mechanics that prove to be incredibly addictive." – AppSpy 5/5. " Fan of the genre or skeptic, there are few games to be found on iOS that are as worth the price …
– http://bit.ly/12SEzkq
---
World's Worst Pet – Vocabulary
By Curriculum Associates, LLC

Possibly the most underrated app of all, I discovered this app during my year in a middle school setting and it was perfect.  The app is full of over 1000 Tier Two vocabulary words and tasks involving word context, word sorting, synonyms, and antonyms.  It's created with vocabulary from 4th-8th grade but I've used it in groups with 3rd graders, too – I just give them a bit extra scaffolding and help as needed.  My favorite part is that the vocabulary is grouped by themes/topics so you're not just asking about words at random.  It's aligned to Common Core and a must-have for any SLP working with 4th-8th grade students.  Target: semantics, synonyms/antonyms, context clues, produce sentence given target word, syntax, pragmatics, conversational articulation
– http://bit.ly/I5Ehl4
---
Tap Roulette – Make Decisions with Friends!
By Laan Labs

Let me tell you a secret.  I have not had an argument in the speech room about "who gets to go first" during an activity since I discovered this app.  It is amazing! I have each student in the group place a finger on the screen, tell them not to "let go" until it's all done, then I touch the "pick finger" button in the middle.  It quickly highlights each finger and randomly selects one! My students ask all the time if we are going to "play the finger game to see who goes first".  On occasion, I use the app as the reinforcement game and just keep a tally of who gets selected the most times during the session and call them the winner, which is just bragging rights in my room but somehow still a big deal! Sometimes they even get to place two fingers on the screen which is even more exciting.  Anyway, this app rocks and has prevented many meltdowns!
– http://bit.ly/1KN7L5a
---
Lil' Kitten Shopping Cart – A Fingerprint Network App
By Fingerprint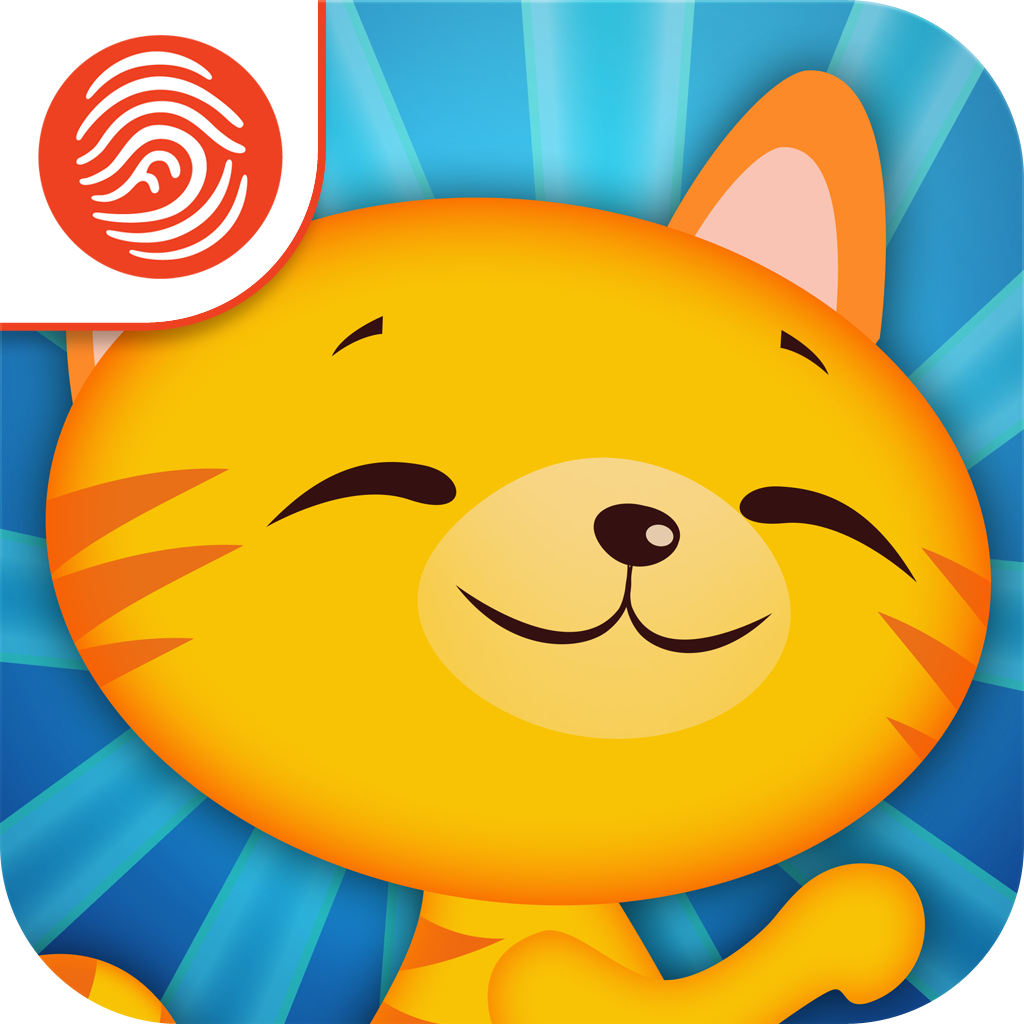 This is the lite version of the app I mentioned earlier.  There are 5 levels so go ahead and give it a try.
– http://bit.ly/1KN6ds0
---
The final entry is more of a category of apps that I affectionately refer to as "wordless, open-ended apps".  These are apps by developers like Toca Boca, Dr. Panda, Bamba, Sago Sago, etc.  I could write entire blog posts about each one of their apps – and plan to do thorough reviews of some of them in the future – but if you haven't ever tried any of these apps, you must!  As you can probably tell by the other apps I picked, I like apps that allow me to address a broad range of goals.  The less structured and definite it is, the more I am able to manipulate it to meet my needs in a session.  What I typically do with apps in this category, if I'm using for a reinforcement tool, is I let the student "free-play" while I slowly count down "5…4…3…2…1…TIME".  Depending on the student, I might make them tell me what they did (past tense verbs) when they're finished.  Either way, the kids like to work collaboratively on the same app and they get several seconds on each turn.  I think you will discover lots of ways to use these apps.  Sometimes you just need to be creative and think outside of the box a little bit!
Whew! Thank you to those of you who stuck with me to the end of my very first post.  I know it was pretty wordy but hopefully you got some good ideas from it.
Are you an SLP/speech therapist, too? Maybe a Special Ed teacher or parent?  What are your "hidden gem" apps? Let me know in the comments 🙂
♡Alison